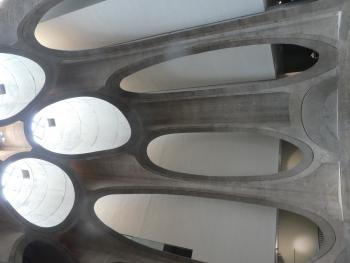 An unusual museum opened at the Victoria & Alfred Waterfront in Cape Town, South Africa, in September 2017: the Zeitz Museum of Contemporary Art Africa.
From an idea by British designer Thomas Heatherwick, densely packed, 187-foot-tall concrete grain silos, originally constructed in 1921, were carved out to make a number of galleries and a large central atrium. The ovoid atrium — pictured in our June mystery photo — features angled cross-sections of the silos. The 9-story museum also has educational areas, a sculpture garden, a restaurant and a shop. On top of the museum is a 5-story hotel.
Seven correct answers were submitted naming the location shown in the picture, and SIGRID SOUTHWORTH of Honolulu, Hawaii, won the drawing. We thank Thom Wilson of Scottsdale, Arizona, for submitting the photo.
Correct answers were submitted by:
Lucyna Boyle, Mesa, AZ; Jane & Clyde Holt, Hinesburg, VT; Avi Ivan, West Hollywood, CA; Karyn Kandell, Kyoto, Japan; Beth Powell, Eureka, CA; Raymond Prince, Maple Valley, WA;
WINNER
: Sigrid B. Southworth, Honolulu, HI.
---