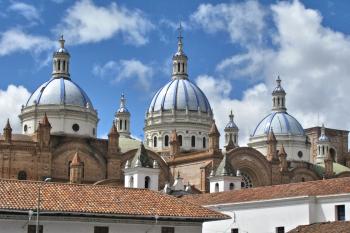 Located in Cuenca, Ecuador, the Catedral de la Inmaculada Concepción (seen in our July mystery photo) is also known as Catedral Nueva (New Cathedral). It was constructed over 90 years, from 1885 to 1975, and it replaced the smaller Old Cathedral, located nearby.
Due to a calculation error by the architect, German-born friar Johannes Bautista Stiehle, the bell towers had to be shortened because their foundations couldn't support the intended height of the towers. Topping the cathedral are three large domes covered by blue and white glazed tile imported from Czechoslovakia. The cathedral's floor is made of pink marble from Carrara, Italy.
Thirteen correct answers were submitted naming the location in the picture, and CATHY BRINER of Eugene, Oregon, won the drawing. We thank Stephen Addison of Charlotte, North Carolina, for submitting the photo.
Correct answers were submitted by:
WINNER:
Cathy Briner, Eugene, OR; Ann Cabot, Austin, TX; Maria Cueto, Weehawken, NJ; Signe Haugen, San Carlos, CA; Jane & Clyde Holt, Hinesburg, VT; Karyn Kandell, Kyoto, Japan; Margaret Norman, Gurnee, IL; Raymond Prince, Maple Valley, WA; Robyn Rishe, Monterey Park, CA; Pamela Ross, Louisville, KY; Helga Smith, New York,NY; Jill Sullivan, Waynesboro, VA; Jonathan van Bilsen, Port Perry, ON, Canada.
---