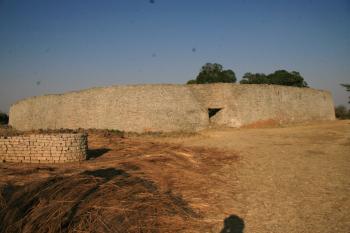 With an outer wall measuring up to 32 feet high in spots, the Great Enclosure is part of a complex of granite structures called Great Zimbabwe, the ruins of which cover almost 1,800 acres in what is now southeastern Zimbabwe. It was built by the Shona tribe, part of the Bantu civilization, from the 11th to 15th centuries. The entrance to the Great Enclosure can be seen in our March mystery photo.
Because the structures among the ruins were built without mortar, it is believed they were intended to symbolize power and prestige rather than serve as a defense against enemies. One large conical tower is thought to have been a granary.
Eleven correct answers were submitted naming the location in the picture, and KARYN KANDELL of Kyoto, Japan, won the drawing. We thank Fred Koehler of Orange, California, for submitting the photo.
(Editor's note: Twice as many incorrect answers as correct answers were submitted this time, most of which identified the structure as Newgrange in County Meath, Ireland.)
Correct answers were submitted by:
Cynthia Anchondo, Moreno Valley, CA; Cathy Briner, Eugene, OR; Lynne D'Andrea, Hanover, MA; Susan Greek, Corona, CA; Signe Haugen, San Carlos, CA; Samuel Leon Hochman, Fort Lauderdale, FL; Jane & Clyde Holt, Hinesburg, VT;
WINNER:
Karyn Kandell, Kyoto, Japan; Raymond Prince, Maple Valley, WA; James Stefan, Sarasota, FL; Anne Tam, Honolulu, HI.
---