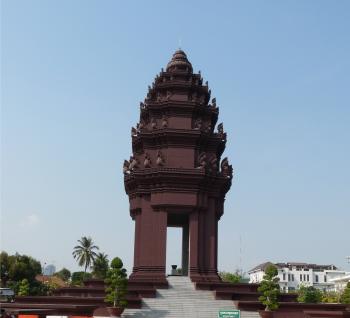 Photographed during a January 2013 cruise up the Mekong River, the Independence Monument (the structure seen in our February mystery photo) stands in Phnom Penh, Cambodia. An Angkorian-style tower, it was erected in 1958 and commemorates the country's independence from France five years earlier.
Cambodian architect Vann Molyvann designed the monument, under the direction of Prince Norodom Sihanouk. The prince wanted the monument, which resembles a lotus-shaped stupa, to combine "the religious and the secular." During national celebrations, a ceremonial flame is often lit on a pedestal inside the monument, with flowers lining the stairs.
Nineteen correct answers were submitted naming the location in the picture, and GEORGE C. KINGSTON of East Longmeadow, Massachusetts, won the drawing. We thank Linda Beuret of Santa Barbara, California, for submitting the photo.
Correct answers were submitted by:
Cynthia Anchondo, Moreno Valley, CA; Gary Atwood, Las Vegas, NV; James Bluck, Westfield, NJ; Cathy Briner, Eugene, OR; Lee Chum, Gresham, OR; Maria Cueto, Weehawken, NJ; Signe Haugen, San Carlos, CA; Jane & Clyde Holt, Hinesburg, VT; Leslie Hosmer, Mechanicsville, MD; Bert Jeung, San Jose, CA; Karyn Kandell, Kyoto, Japan;
WINNER:
George C. Kingston, East Longmeadow, MA; Jane Kolber, Bisbee, AZ; Don Miller, Crown Pointe, IN; Margaret Norman, Gurnee, IL; Raymond Prince, Maple Valley, WA; Marcia Ritter, St. Louis, MO; Pamela Ross, Louisville, KY; Karen Wagner, Monarch Beach, CA.
---