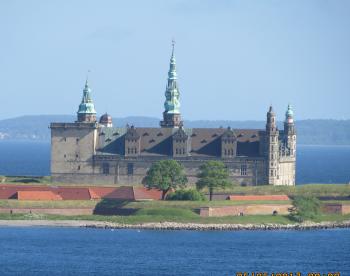 The history behind the building in our November mystery photo — located in Helsingør, Denmark — began in the 1420s, when Denmark's King Eric VII chose that spot to build a stronghold known as Krogen ("The Hook"). Over a century later, in 1574, King Frederick II transformed it into a Renaissance castle that was eventually named Kronborg Castle. Following a fire in 1629, the castle was reconstructed in the same style.
On the northeastern tip of the island of Zealand and strategically located at the head of Øresund Sound (where it can control one of the Baltic Sea's few outlets), the castle's true claim to fame was its role as Elsinore in William Shakespeare's play "Hamlet."
Twelve correct answers were submitted naming the location in the picture, and RAYMOND PRINCE of Maple Valley, Washington, won the drawing. We thank Skip Carpenter of Coronado, California, for submitting the photo.
Correct answers were submitted by:
Maria Cueto, Weehawken, NJ; Mette Djokovich, South Jordan, UT; Signe Haugen, San Carlos, CA; Jane & Clyde Holt, Hinesburg, VT; Karyn Kandell, Kyoto, Japan; George C. Kingston, East Longmeadow, MA; William O'Connell, Mission Viejo, CA; Larry Parnes, San Antonio, TX;
WINNER:
Raymond Prince, Maple Valley, WA; Pamela Ross, Louisville, KY; Jan Smith, Lincoln, NE; Marilyn Willats, Berkeley, CA.
---