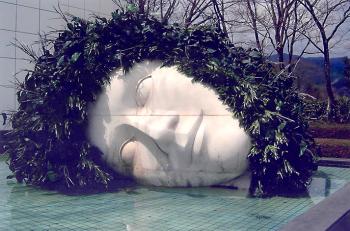 One of the most unusual sculptures in the world lies in central Japan's Hakone Open-Air Museum, an outdoor sculpture park that "plays with nature." The museum is in the eastern part of the town of Hakone, which is about 60 miles south of Tokyo on the country's main island, Honshu.
"La Pleureuse" ("The Mourner") is the name of the artwork, pictured in our September mystery photo. Created by husband-and-wife team François-Xavier and Claude Lalanne in 1986, the head was carved from a huge piece of Italian Trani limestone and placed in a pond that is perpetually filled with water ... keeping alive the sculpture's "hair" of bright green leaves. Both artists were well known for combining flora and fauna in unique ways.
Fourteen correct answers were submitted naming the location in the picture, and KARYN KANDELL of Kyoto, Japan, won the drawing. We thank Daissy Prada Owen of Iowa City, Iowa, for submitting the photo.
Correct answers were submitted by:
Tom Bulloch, Woodland Park, CO; Maria Cueto, Weehawken, NJ; William Fitzgerald, Torrance, CA; Jane & Clyde Holt, Hinesburg, VT; Scott Kammer, Centerville, MN;
WINNER:
Karyn Kandell, Kyoto, Japan; Carol Peim, Hendersonville, NC; Beth Powell, Eureka, CA; Raymond Prince, Maple Valley, WA; Pamela Ross, Louisville, KY; Walter & Jeanne Schwartz, San Mateo, CA; Gary Spinks, DeWitt, MI; Cheryl Sullivan, Skiatook, OK; Ann White, Concord, CA.
---