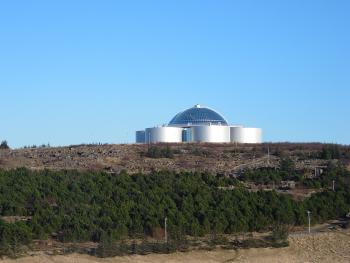 On top of Öskjuhlíð hill, in the center of Reykjavík, Iceland, stands a ring of six tanks each holding up to more than a million gallons of geothermally heated water. Nearly 30 years ago, a huge glass dome was added in their midst, a multipurpose building — Perlan — that now contains a planetarium, an observation deck and a restaurant. Exhibitions are held there, too.
Opened to the public in June 1991, the structure (appearing in our November mystery photo) was designed by architect Ingimundur Sveinsson, but the vision for it came from native artist Jóhannes Kjarval, a painter who first described his idea in 1930. The Perlan website
(perlan.is)
explains that water is piped through the glass dome's steel framework — cold in the summer and hot in the winter — to keep the temperature inside the building at a comfortable level.
Forty-three correct answers were submitted naming the location in the picture, and EMILÍA JÓNSDÓTTIR ANDERSON of Albertville, Minnesota, won the drawing. We thank Jim Simpson of Glen Mills, Pennsylvania, for submitting the photo.
Correct answers were submitted by:
Cynthia Anchondo, Moreno Valley, CA;
WINNER:
Emilía Jónsdóttir Anderson, Albertville, MN; Steven Beningo, Derwood, MD; Ann Burk, Mechanicsburg, PA; Pat Cekoric, Aliquippa, PA; Dave Donald, Vineyard Haven, MA; George C. Eckerson, Fircrest, WA; Joan Felak, Schenectady, NY; Rita K. Fisher, Des Moines, IA; Sue Hardy, Manchester, CT; Signe Haugen, San Carlos, CA; Leann Henry, Sylvania, OH; Mike Hess, Alexandria, VA; Pat Hines, Enterprise, OR; Samuel Leon Hochman, Fort Lauderdale, FL; Jane & Clyde Holt, Hinesburg, VT; David E. Irving, Media, PA; Karyn Kandell, Kyoto, Japan; Robert Kimsey, Hampton, VA; Carol Lafrenaye, Yorktown, VA; Melanie Lathen, Sebastopol, CA; Mary & John Linnemann, Melrose, MN; Phil Lutzi, St. Pete Beach, FL; William Oakley, Reston, VA; Tom Ohara, San Luis Obispo, CA; Donna Peterson, Patch Grove, WI; Raymond Prince, Maple Valley, WA; Marcia Ritter, St. Louis, MO; Sandra Robson, Brunswick, OH; Pam Ross, Louisville, KY; Ann Ruwitch, St. Louis, MO; Gregg Schmidt, Fishers, IN; Jim Schroder, Oceanside, CA; Rick Sinding, Princeton, NJ; Jan Smith, Lincoln, NE; Rod Smith, Oskaloosa, KS; Cristina Staats, Boyne City, MI; Jeanne Torre, Los Gatos, CA; Alice Tucker, Honolulu, HI; Jonathan van Bilsen, Port Perry, ON, Canada; Karen Wagner, Monarch Beach, CA; John Weiss, Canton, CT; Barbara Winn, Green Bay, WI.
---