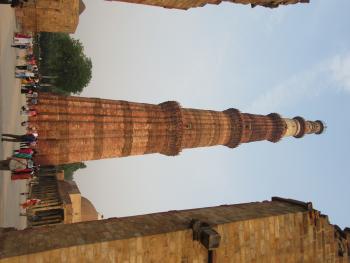 Eighteen miles southeast of Delhi, India, stands the Qutb Minar, a structure dating back to the early 13th century and an unforgettable sight for anyone visiting the area. The 240-foot-tall minaret, measuring 49 feet in diameter at the base and 8 feet across at the top, was built in celebration of the Muslims' conquest over Delhi's Hindu rule in the late 12th century.
Its construction began in 1193 under the authority of Qutab-ud-din Aibak, the city's first Muslim ruler. Red standstone was used to create the first three stories of the 5-story tower, and the top two stories were made of marble and sandstone. The top story, however, wasn't completed until 1385.
One hundred-one (!) correct answers were submitted naming the location in the picture, and LINDA CRAIN of Signal Hill, California, won the drawing. We thank Stephen Addison of Charlotte, North Carolina, for submitting the photo.
Correct answers were submitted by:
Dr. Adi Adens, Walnut Creek, CA; Emanuela Allgood, Fremont, CA; Lisa Anway, Pebble Beach, CA; Deepak Awasthi, Destrehan, LA; Erna Bailey, Reno, NV; Shelly L. Bednar, Temecula, CA; Rosalba Benitez, Las Vegas, NV; Bobbi Benson, Burlingame, CA; Anna Berg, Deerfield, IL; Sejal Bhatt, Fort Mill, SC; Cathy Briner, Eugene, OR; Georgia Briscoe, Lafayette, CO; Rick Bush, Helena, MT; Emerald Causey, Marietta, GA; Michael Anthony Chrusciel, Riverview, MI; Robert Coffman, Green Cove Springs, FL;
WINNER:
Linda Crain, Signal Hill, CA; Maria Cueto, Weehawken, NJ; Sue Cutler, Fort Lauderdale, FL; Joel & Elaine Daniels, Canby, OR; Fay Denzler, Encino, CA; John C. Deppman, Fort Myers, FL; James Downs, Lafayette, CO; Debra Minar Driscoll, Dallas, OR; Beverly Epstein, New York, NY; Lois Fate, Puyallup, WA; Heidi Foggatt, Phoenix, AZ; Willis Frick, San Clemente, CA; Russell Gluck, Franklin Lakes, NJ; Brooks Goddard, Needham, MA; Sylvie Gould, Cumming, GA; Susan Greek, Corona, CA; Laura Hall, San Diego, CA; Jan Harvey, San Antonio, TX; Signe Haugen, San Carlos, CA; Bob Havlen, Albuquerque, NM; Sally Heath, Santa Rosa, CA; Samuel Leon Hochman, Fort Lauderdale, FL; Jane & Clyde Holt, Hinesburg, VT; Gordon Hostetler, Elkhart, IN; Kembell Huyke, Flushing, NY; Doranne Jacobson, Springfield, IL; Steve Jones, Fiddletown, CA; Karyn Kandell, Kyoto, Japan; Janice Kolbaska, Mt. Prospect, IL; Madalyn Kolton, Roseville, MI; Robert Kowalczyk, North Dartmouth, MA; Ken Lammers, Cleveland, OH; Julie Leanna, Little Suamico, WI; Tony Lee, San Francisco, CA; Vincent Liggio, Norwalk, CT; W. Wayne Lindsey, Las Vegas, NV; Sandra Loebs, Murrells Inlet, SC; Laura Lorman, Sunnyvale, CA; Melissa Anne Lum, Fort Worth, TX; Janet McGary, Medford, OR; Bennetta McLaughlin, Dallas, TX; Barbara Morgan, Shelbyville, TN; Frank Morris, Mt. Vernon, WA; Asish Mukherjee, Maumee, OH; Tony Nies, Corte Madera, CA; Margaret Norman, Gurnee, IL; Mike & Connie O'Dwyer, Millbrae, CA; Tom O'Hara, San Luis Obispo, CA; Dr. & Mrs. Francis Pease, Leawood, KS; Steve Piccolo, Seattle, WA; Edward Pinsky, Montrose, NY; Beth Podol, El Paso, TX; Betty Podol, Reston, VA; Raymond Prince, Maple Valley, WA; William Raffel, Rockville, MD; Jim Randall, Sequim, WA; Carolyn Rawles, Corvallis, OR; Preston Reeves, Seguin, TX; Marcia Reynolds, Orange, CA; Marcia Ritter, Kirkwood, MO; Henry D. Rogers, Jacksonville, FL; Turner Rogers, Mobile, AL; Pamela Ross, Louisville, KY; Irwin Schatzman, Scottsdale, AZ; Jimmy Schottel, Basehor, KS; Jennifer Schultz, Northbrook, IL; Richard Sherrick, Greensboro, NC; James Sibley, Spring, TX; Sheila Siener, Exeter, NH; Rick Sinding, Princeton, NJ; Janet Smith, Grosse Pointe Farms, MI; Ben Hinson & Jamie Stamey, Sherrills Ford, NC; Larry Szymczak, Chicago, IL; Leo Tallieu, Northville, MI; Nancy Toledo, Rio Vista, CA; Charles Twine, Durham, NC; Faz Ulla, San Jose, CA; Jonathan van Bilsen, Port Perry, ON, Canada; Robert Vancreveld, Portland, OR; Karen Wagner, Monarch Beach, CA; Brian Weaver, Burlington, KY; Eve Wertsch, San Francisco, CA; Richard A. Wood, Lancaster, CA; Nellie Ziegler, Tucson, AZ; Valerie Zorich, Napa, CA.
---