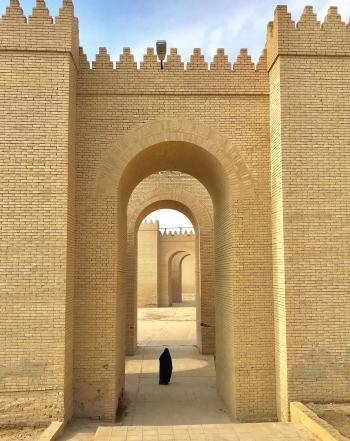 Located in what is now central Iraq, Babylon, founded in 2300 BC, was the capital of the Neo-Babylonian Empire from 626 to 539 BC. Nebuchadnezzar II, who ruled that empire at one point, is credited with ordering the construction of the Hanging Gardens of Babylon, one of the Seven Wonders of the Ancient World. Pictured in our December mystery photo is a reconstructed portion of gates of the ancient city of Babylon. The site is near Hillah, capital of Babil Governorate (Babylon Province), about 70 miles south of modern-day Baghdad.
Five correct answers were submitted naming the location in the picture, and CATHY BRINER of Eugene, Oregon, won the drawing. We thank Laurel Glassman of Chevy Chase, Maryland, for submitting the photo.
The photographer was Michel Behar, tour leader of Laurel's group when they visited the Babylon archaeological site in November 2018.
Correct answers were submitted by:
WINNER:
Cathy Briner, Eugene, OR; Jane & Clyde Holt, Hinesburg, VT; Karyn Kandell, Kyoto, Japan; Donna Peterson, Patch Grove, WI; Raymond Prince, Maple Valley, WA.
---