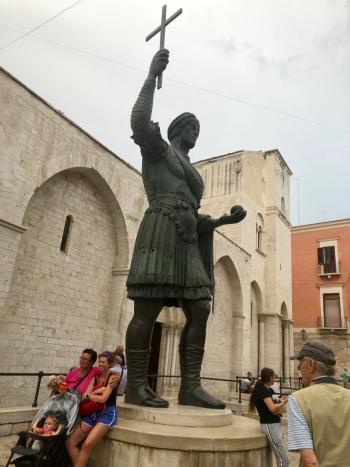 Known as the Colossus of Barletta, the bronze Byzantine statue seen in our December mystery photo is about 16-1/2; feet tall and stands near the Basilica of the Holy Sepulchre of Barletta in the town of Barletta, located in the Puglia region of Italy, in the "heel."
According to local mythology, the statue washed ashore after a Venetian ship sank while returning from the Fourth Crusade (1202-1204), in which case the statue's original home was most likely Constantinople (now known as Istanbul, Turkey).
The identity of the towering figure has never been conclusively determined beyond the fact that the statue depicts a Roman emperor, with possible candidates having ruled from the mid-4th century to the 6th century AD.
Eleven correct answers were submitted naming the location in the picture, and LIONEL CARVALHO of Los Angeles, California, won the drawing. We thank Linda Beuret of Santa Barbara, California, for submitting the photo.
Correct answers were submitted by: Cathy Briner, Eugene, OR; John Buhr, Newtown, PA;
WINNER:
Lionel Carvalho, Los Angeles, CA; Maria Cueto, Weehawken, NJ; Signe Haugen, San Carlos, CA; Jane & Clyde Holt, Hinesburg, VT; Karyn Kandell, Kyoto, Japan; Jason Kornmueller, Lake Forest, CA; Donna Peterson, Patch Grove, WI; Raymond Prince, Maple Valley, WA; Marcia Ritter, St. Louis, MO.
---