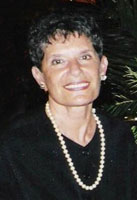 Deanna Palić has been writing a column on Latin America since 1982, describing trips she's taken and passing along news of interest. Deanna began her career in travel as a flight attendant for Eastern Airlines. Due to her proficiency in Spanish, she mainly traveled routes to Mexico and Puerto Rico.
While managing a student travel department for Popularis Tours, a Swiss-owned company in New York City, she developed tour itineraries to Bermuda and Europe. She went on to work in public relations for United Airlines; was Swissair's first woman sales representative; was a sales representative in Los Angeles for KLM Royal Dutch Airlines; became a manager for the retail travel agency University Travel in Los Angeles, and was a sales representative in Los Angeles for United Touring International (Africa division).
In 1972 in Hawaii, Deanna created DRS Enterprises, a firm which, subsequently based in Hawaii, Los Angeles, Guatemala and Peru over 13 years, represented various travel companies. In her capacity at DRS, she also worked as an independent tour manager for the companies Unitours, Hemphill-Harris, American Express and Globus, escorting groups to destinations worldwide but particularly to Latin America. She went on to create customized tour itineraries to Europe for Love Holidays and started their South America cruise department.
After being Director of Sales for the Valley Hilton Hotel in Sherman Oaks, California, she became LanChile Airlines' Regional Sales Manager, Western USA. Deanna currently resides in Woodland Hills, California.