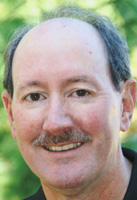 Llewellyn "Lew" Toulmin, Ph.D, F.R.G.S., has worked in 30 foreign countries, has traveled to 138 of the countries on The ITN Official List of Nations and has sailed on cruise ships or tall ships in every ocean. He has been writing cruising and sailing stories since 1972; the first of his many articles printed in ITN appeared in the July 1995 issue, and his column "The Cruising World" debuted in ITN in September 2004. Lew holds a Ph.D in economics and public administration from American University in Washington, DC.
He is an advisor to foreign governments, an expert in telecommunications policy in the developing world, a maritime historian, a travel writer and an adventurer. He is the author of "The Most Traveled Man on Earth," a nonfiction book which describes the world's two most-traveled men and their race to gain this title, plus his adventures trying to catch up with them.
Lew was born in Mobile, Alabama, and is a direct descendant of Judge Harry Toulmin, one of the founders of Alabama. A Fellow of the Royal Geographical Society and a member of the Explorers Club, the Naval Order of the United States and the Order of Descendants of Pirates & Privateers, Lew lives in Silver Spring, Maryland, with his wife, Susan.