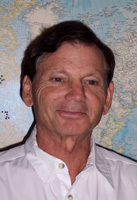 Randy Keck has been a Contributing Editor for ITN since the 1980s, when he started writing a column titled "Oceania." In 1995, he changed the name of his column to "Far Horizons," expanding its reach to destinations worldwide. He also began to draw on his experience as a tour operator and psychologist to tackle and, at times, dissect topics of interest to international travelers.
In the '80s, Randy and his wife, Gail, began operating a tour company called ASI Tours, conducting group tours to Australia, New Zealand, the South Pacific islands and Southern Africa. They worked as tour operators for nearly two decades, during which time Randy led many groups to those destinations.
After taking a decade-plus hiatus to focus on personal travel and other life projects, Randy and Gail reopened ASI Tours in 2018 and began operating a revised and updated version of their original, 24-day "Around Australia" tour. (Departures are currently scheduled for March 2020 and March 2021.)
Randy has also led more than 25 tours to Cuba for another tour company and remains involved in multiple facets of the tourism industry, including consulting.
With his background as a psychologist, Randy worked as a family and university counselor in three areas of Australia (Queensland, Tasmania and the Northern Territory) as well as in California and Florida. He was one of the first Americans admitted into the Australian Psychological Society and retains a special interest in the unique field of travel psychology.
Randy has visited 95 countries on the ITN Official List of Independent Sovereign Nations plus scores of territories and protectorates. He professes the following: "International travel produces the ultimate human learning experience, helping to insure that the true traveler always remains in humility-based student mode. I consider my favorite destination to be wherever I am traveling to next. My belief is that the desire to travel is synonymous with the need to continue growing, making it the worthiest of aspirations. My experience of life has been that eternal youth is attainable because it is simply a state of mind."