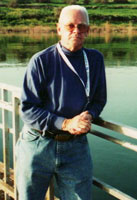 Retired aerospace engineer and factory superintendent Wayne Wirtanen first saw his byline in ITN in the April 1982 issue with his column "Paper Napkin Gourmet." In November 1984 he supplemented that with the column "The Shopper" as well as occasional feature articles. This continued until November 1988, when, along with his wife, Saima, he launched the column "Adventure Travel for the Mildly Adventuresome."
Wayne and Saima had done some routine travel, seeing the cities and museums of Europe, then sought something more adventuresome but at destinations that were not overly strenuous or dangerous for mature travelers. Their first jungle experience, at the Mayan sites around Tikal, Guatemala, changed their focus of travel, and their new approach was to research and produce first-person travel reports from intimidating-sounding destinations such as the Amazon jungle and the wilds of Siberia.
Wayne and Saima decided that coverage of these kinds of trips had been somewhat ignored. Although they avoid traditional "cruising," they have found that travel on small ships is necessary to explore destinations where ground accommodations are expensive and/or unreliable, such as on Russia's Volga River, Siberia's Amur River, West Africa's Gambia River and Papua New Guinea's Sepik River.
Wayne was spurred to write comprehensive articles about travel insurance when he realized that many travelers routinely buy expensive travel insurance packages without fully understanding the coverage limitations described in the "fine print."
His first article on travel insurance appeared in the April 1994 issue of ITN. He wrote many more articles on the subject, in addition to his Mild Adventure column and other feature articles, until simply establishing in August 2006 the column "Eye On Travel Insurance," which appears irregularly in the magazine.
Wayne has consistently made his e-mail address and home phone number available to ITN readers who wish to ask him questions about travel insurance or his travels. Sadly, after 61 years of marriage, Saima passed away in December 2011. Wayne, who lives in Placerville, California, continues to write for ITN.