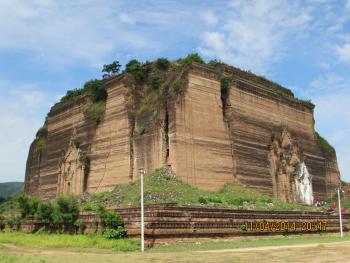 In 1790, when construction began on the huge structure shown in our January mystery photo, the plan was that it would eventually reach a height of 490 feet. However, the project was abandoned long before that. Today, the Mingun Pahtodawgyi -- a monument stupa in the town of Mingun, located across the Irrawaddy River from Mandalay in central Myanmar -- is "only" 164 feet tall and is sometimes referred to as the "world's largest pile of bricks."
The person who commissioned the project was King Bodawpaya, and it was due to a prophecy that the king would die when the project was completed that construction was halted.
Forty-seven correct answers were submitted naming the location in the picture, and JUDITH DYRHSEN of Yuba City, California, won the drawing. We thank Kay Kindig of Coeur d'Alene, Idaho, for submitting the photo.
Correct answers were submitted by:
Emanuela Allgood, Fremont, CA; Jackie Bangert, Chesterfield, MO; Shirley & Victor Becker, Skokie, IL; Jackie Bell, Belmont, CA; Rex & Karen Berney, Waverly, OH; David Bousher, Austin, TX; Mike Brandt, El Dorado Hills, CA; Maria Cueto, Weehawken, NJ; Linda Devlin, Waterbury, VT;
WINNER:
Judith Dyrhsen, Yuba City, CA; Roman Fedorka, Kelso, WA; Terry Flynn, East Greenbush, NY; Heidi Foggatt, Phoenix, AZ; Russell Gluck, Franklin Lakes, NJ; Gerald Gould, Cumming, GA; Guenther Eichhorn, Scottsdale, AZ; Elizabeth Hamel, Monroeville, PA; Susan Hamilton, Boulder, CO; Bill Harris, Healdsburg, CA; John Haseman, Grand Junction, CO; Signe Haugen, San Carlos, CA; Carl Herzog, Charlotte, VT; Jane & Clyde Holt, Hinesburg, VT; Doranne Jacobson, Springfield, IL; Leslie Jamison, Wilmington, DE; Karyn Kandell, Kyoto, Japan; Jason Kornmueller, Lake Forest, CA; Alan Lichtenstein, Commack, NY; Allan Little, Atlanta, GA; Steve Lopes, Lawrence, KS; Kenneth J. Mayer, Sidney, NE; Mike McClintock, San Diego, CA; Tom Ohara, San Luis Obispo, CA; Margaret A. Sova, Phoenix, AZ; Dave Peck, Oakland, CA; Raymond Prince, Maple Valley, WA; Brian Robbins, Canyon Lake, CA; Wallace Schroeder, Sarasota, FL; James Sibley, Spring, TX; George Sonnichsen, The Villages, FL; Gary Spinks, DeWitt, MI; Jamie Stamey & Ben Hinson, Sherrills Ford, NC; Phyllis & David Stolls, Riverside, CA; Jonathan van Bilsen, Port Perry, ON, Canada; Alice Van De Wetering, Calverton, NY; Kathy Whitmer, Bellingham, WA; Scott Wild, Bellingham, WA.
---