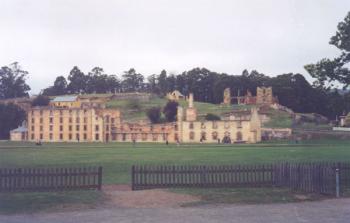 From 1787 to 1868, more than 160,000 prisoners were transported from Britain to Australia. Once they reached Australia, anyone who reoffended was sent to the subject of May's photo, the Penitentiary at Port Arthur, Tasmania. It was nearly an "inescapable" prison.
One convict, George Hunt, famously attempted to gain his freedom by disguising himself as a kangaroo, only to throw off the pelt and give himself up when hungry guards tried to shoot him for dinner.
Thirty-four correct entries were sent by the deadline, and JACK ORR of Hot Springs, Arkansas, won the drawing. We thank Grace Newman of Ponte Vedra, Florida, for contributing the photo.
---