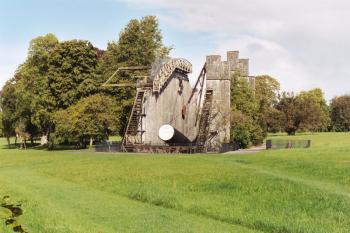 Out of this world! The word "amateur" is derived from the Latin word "to love." Irish amateur astronomer William Parsons, the third Earl of Rosse, truly showed his love of stellar science when he designed and constructed The Leviathan, a 72-inch reflector telescope, from 1840 to 1845.
Located at Birr Castle in Parsontown, in central Ireland, the telescope was for 75 years the largest in the world. Among the discoveries made by Lord Rosse was the galaxy M-51, aka the Whirlpool Galaxy.
Seven readers sent in the correct answer by the deadline, and JAMES OLIVER of Memphis, Tennessee, won the drawing. ITN's stellar Assistant Editor Mary Beltran contributed the photo.
---