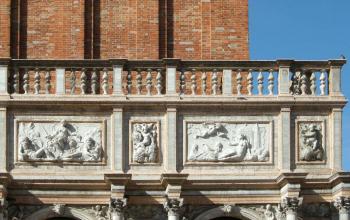 Dominating the skyline of Venice, Italy, the 323-foot-tall St. Mark's Campanile is located in St. Mark's Square, and at its base is a loggia and balcony, all designed and built by Jacopo Sansovino between 1537 and 1549. The balcony was the subject of our May photo.
Three marble friezes, carved by students of Sansovino, front the balcony. The two seen in our May photo are (at left) the personification of Venice as the goddess of Justice, holding a sword and seated on a lion throne, and (to the right) an allegorical representation of the island of Cyprus, then part of the Venetian Republic. To the far left, not seen, is a representation of Crete.
Eight correct answers were submitted naming the location shown in the photo, and RAYMOND PRINCE of Maple Valley, Washington, won the drawing. We thank David J. Patten of St. Petersburg, Florida, for submitting the photo.
Correct answers were submitted by:
Nanci Alexander, Lexington, KY; Lottaine Banfi, Jackson, NJ; Richard E. Hart, Renton, WA; Jane & Clyde Holt, Hinesburg, VT; Karyn Kandell, Kyoto, Japan; Donna Peterson, Patch Grove, WI;
WINNER:
Raymond Prince, Maple Valley, WA; Francine A. Silberman, Dunedin, FL.
---