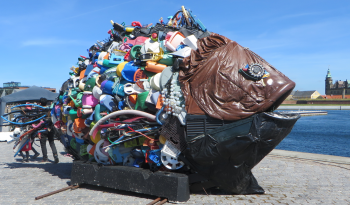 Ecology meets art in the unusual sculpture that sits on the King's Quay in Helsingor (Elsinore), eastern Denmark, the location of our November mystery photo. Part of a community art project known as "Life in the Sound," this large, colorful fish on the marina near Kronborg Castle was completed in 2014 by Japanese artist Hideaki Shibata, who is also known as Yodogawa Technique.
Yodo-Tech has constructed several sculptures like this one, comprised of garbage and miscellaneous floating objects that have drifted to shore or onto riverbanks, in an effort to raise public awareness of environmental issues. In addition to giant fish, he has created other types of art in various parts of the world, primarily in Japan.
Twenty-four correct answers were submitted, and CAROL PEIM of Hendersonville, North Carolina, won the drawing. We thank Skip Carpenter of Coronado, California, for submitting the picture.
Correct answers were submitted by:
Shirley & Victor Becker, Skokie, IL; Maria Cueto, Weehawken, NJ; Elfrena Foord & Bruce Hester, Sacramento, CA; Lenore Haber, Delray Beach, FL; Signe Haugen, San Carlos, CA; Jane & Clyde Holt, Hinesburg, VT; David Jack, Modesto, CA; Stephen Jeffries, Centennial, CO; Karyn Kandell, Kyoto, Japan; Theodore Liebersfeld, Boynton Beach, FL; Judith Newell, Chicago, IL; Cheri Ng / Dorothy Pidgursky, San Ramon, CA; James B. Oerding, Capay, CA; Mukesh R. Patel, Duluth, GA;
WINNER:
Carol Peim, Hendersonville, NC; Donna Peterson, Patch Grove WI; Raymond Prince, Maple Valley, WA; Marcia Ritter, St. Louis, MO; Mary Schmidt, Fairfax, VA; Judy Spielman, Philadelphia, PA; Babette Thorson, Bethany Beach, DE; Charles Twine, Durham, NC; Jonathan van Bilsen, Port Perry, ON, Canada; Jan Wleugel, Toronto, ON, Canada.
---