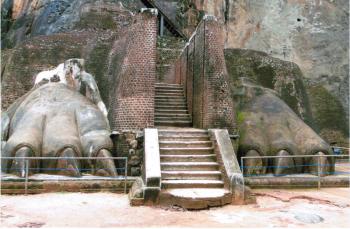 Sigiriya, also known as Lion Rock, sits near the center of the island of Sri Lanka. Over 1,500 years ago, the 660-foot-tall column of rock was the centerpiece of a walled city complex measuring almost two miles wide and over half a mile long. On top of the rock plateau, a fortified palace was built by King Kasyapa, who ruled from AD 477 to 495. Partway up the rock, visitors entered the fortress through the mouth of an enormous lion constructed of bricks. Sigiriya and the grounds of the lower city featured advanced underground water conduits and landscaped gardens.
Kasyapa had risen to power by having his father put to death. He feared revenge from his half-brother, Moggallana, the rightful heir, who fled to southern India. He built the fortress for protection, but it wasn't enough. Moggallana returned in AD 495, vanquishing Kasyapa and his army.
The palace became neglected and is no longer there. The lion's head collapsed many years ago and all that remains are its paws, which were pictured in the July 2014 issue. To this day, during the rainy season, water fountains at the base of the rock are still functional.
Forty-nine people correctly identified the subject of the photo, and MICHAEL R. SHARON, M.D., of Ellington, Connecticut, won the drawing. We thank Dick Alvernaz of Lakeside, California, for submitting the photo.
Correct answers were submitted by:
Dottie & Bud Anderson, Concord, CA; Diana Butler, El Sobrante, CA; Steven Clift, North Little Rock, AR; Meg Coulter, Los Angeles, CA; Edwin Earl, Laguna Beach, CA; Bill Fagan, San Diego, CA; Femi Faminu, Los Angeles, CA; Diane Powell Ferguson, Scottsdale, AZ; Sherryl Frisch, Wimauma, FL; Deborah Futch, Winter Haven, FL; Norma & Steve Goldberger, Milford, OH; John Golden, Washington, D.C.; Susan Greek, Corona, CA; Freddi Hammerschlag, Highland, MD; Phil Haney, Laguna Beach, CA; Signe Haugen, San Carlos, CA; Magali Hinojosa, Laredo, TX; Samuel Leon Hockman, Fort Lauderdale, FL; Jane & Clyde Holt, Hinesburg, VT; Conrad Houge, South Colby, WA; Doranne Jacobson, Springfield, IL; Diane Jarrett, Newport Beach, CA; Henry Kammerer, Grand Island, NY; Karyn Kandell, Kyoto, Japan; George C. Kingston, East Longmeadow, MA; Robert Knox, Hollywood, CA; Janet Kolbaska, Mount Prospect, IL; Sylvia Levi, Studio City, CA; Herschell Gordon Lewis, Pompano Beach, FL; Allan Little III, Atlanta, GA; Lisa McCary, Laredo, TX; Nili Olay, New York, NY; James Oliver, Memphis, TN; Sherry Pate, Fort Myers, FL; Sharon Phillis, Kingwood, TX; Raymond Prince, Maple Valley, WA; Lakshman Ratnapala, San Francisco, CA; Cliff Rhode; Dennis Rompasky, Kula, HI; Jo Ellen Ryan, Davis, CA; Kenneth Schwartz, Los Angeles, CA;
WINNER:
Michael R. Sharon, Ellington, CT; George Sonnichsen, The Villages, FL; Antonia Sparano, Los Angeles, CA; Edith H. Speir, Annandale, VA; James Stefan, Sarasota, FL; Neal Steinbrenner, Costa Mesa, CA; Phyllis & David Stolls, Riverside, CA; Jill Sullivan, Waynesboro, VA; Kathy Wilhelm, Cary, NC.
---