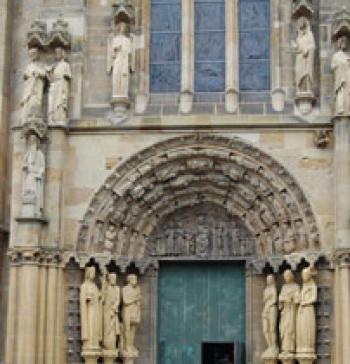 August's photo depicts the entrance to the Liebfraukirche in Trier, Germany.
Completed in 1260, it is one of the oldest Gothic churches in Germany. (The other contender for the title of "oldest Gothic church" is in Marburg.)
Twelve is the number that dominates the interior of the church. The floor plan resembles a 12-petaled rose, the Mystic Rose that is one of the symbols for the Virgin Mary. On 12 columns, the 12 apostles are painted along with the 12 articles of the Apostle's Creed.
The 12 tribes of Israel are also symbolized in the church.
Alas, not 12 but only three readers sent in correct answers by the deadline, and JIM and LINDA McLELLAN of The Woodlands, Texas, won the drawing.
ITN's Jane Albusche contributed the photo.
---