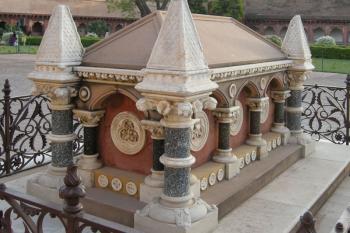 The Red Fort of Agra, India, is where January's photo was taken. It shows the tomb of John Russell Colvin, a British civil servant who served as lieutenant-governor of British India's North-West Frontier Provinces in the 1850s.
Four years after Colvin was appointed to the post, mutiny (now known as India's First War for Independence) erupted in India. In 1857, at the height of the rebellion, Colvin died of cholera at the age of 50. The rebellion signaled the end of India's rule by Britain's East India Company and the beginning of direct rule by the British crown. The British Raj (reign) lasted from 1857 to 1947, when the Indian Empire was split into two sovereign states: India and Pakistan.
Shortly before his death, Colvin issued a proclamation that recommended leniency for most of the rebels. Although this policy was criticized at the time, British authorities eventually adopted it.
The 94-acre Red Fort, a combination of Hindu and Islamic architecture, was rebuilt with red sandstone by Mughals in the 16th century. The original fort was made of brick as early as the 11th century.
Four correct answers were submitted, and WILLIAM RAFFEL of Savannah, Georgia, won the drawing. We thank David J. Patten of St. Petersburg, Florida, for contributing the photo.
Correct answers were submitted by:
Doranne Jacobson, Springfield, IL; Lavinia Marx, Portland, OR;
WINNER:
William Raffel, Savannah, GA; Pam Reimann, Evansville, IN.
---