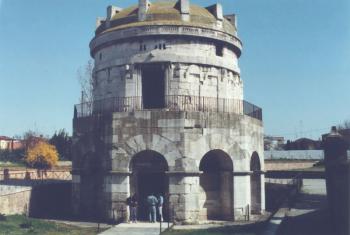 Planning ahead, Theoderic (sometimes spelled Theodoric) the Great, king of the Ostrogoths from AD 493 until his death in 526, built his tomb in 520 on the outskirts of Ravenna, Italy. Pictured in the December '13 issue, the Mausoleo di Teodorico, the only surviving example of a king's tomb from this period, is recognized for its style and decoration,* devoid of any Roman or Byzantine artwork. The lower story of the mausoleum is a decagon, while the upper story is circular, with a 36-foot-wide monolithic dome made of limestone imported from Istria (in modern-day Croatia).
Twelve correct answers were submitted, and D'NESE GRANGER of Princeville, Hawaii, won the drawing. We thank Solomon Gold of Las Vegas, Nevada, for contributing the photo.
Correct answers were submitted by:
Jack Brown, Chicago, IL; Yvonne Dixon, Washington, D.C.; Richard A. Foltz, Emmaus, PA;
WINNER:
D'nese Granger, Princeville, HI; Signe Haugen, San Carlos, CA; Karen Knish, Canton, OH; Margaret McCormick, Brookline, MA; Janet McGary, Sunnyvale, CA; Patricia Ove, Rio Rancho, NM; Jill Sullivan, Waynesboro, VA; Richard Taylor, Natchitoches, LA; Claire Wait, Sutter Creek, CA.
*In the February '14 issue, the answer stated that the Mausoleum of Theoderic the Great "has been recognized for its Gothic style and decoration." Reader David J. Patten of St. Petersburg, Florida, who has a master's degree in Art and Architectural History, pointed out, "Built in 520 CE, the mausoleum is difficult to identify stylistically. It's really not Byzantine, nor can one call it Early Christian. It's also too early to call Romanesque. I'd probably call it very late Roman." (Correction published in the March 2014 issue.)
---