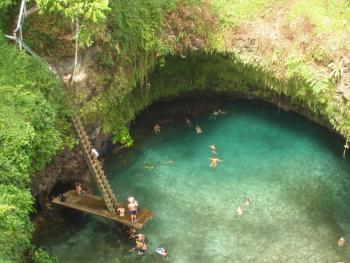 Visitors to Samoa's volcanic island of Upolu most likely have looked down into the To Sua Ocean Trench, the spot shown in our September 2016 mystery photo. Found in the village of Lotofaga, on the south coast of the island, the hole was formed when volcanic seismic activity caused a large part of the ground to fall away.
Swimmers reach the water (almost 100 feet down) by descending a long ladder into the grotto. Inches above the water's surface is a platform from which they can jump. Canals and tunnels feed the trench with water from the South Pacific. Despite visitors' having to pay to swim (free for kids under age 7), the pool's clear water, sandy bed and numerous tropical fish make this a very popular spot.
Twenty-two correct answers were submitted, and JUDY NEWELL of Chicago, Illinois, won the drawing. We thank Samuel Leon Hochman of Ft. Lauderdale, Florida, for submitting the photo.
Correct answers were submitted by:
Lisa Anway, Pebble Beach, CA; Victor Becker, Skokie, IL; Mike Brennan, Marshfield, WI; Alla Campbell, Greensboro, GA; Mary Carlson, Mission Viejo, CA; John Cogswell, Powell River, BC, CANADA; Lynn D'Andrea, Hanover, MA; Gary Dempsey, Camarillo, CA; Michael Dixon, Washington, DC; James K. Downs, Lafayette, CO; Edwin T. Earl, Laguna Beach, CA; Stanley Gorcik, Buffalo Grove, IL; Signe Haugen, San Carlos, CA; Magali V. Hinojosa, Laredo, TX; Jane & Clyde Holt, Hinesburg, VT; Conrad Houge, South Colby, WA; Barbara Hudson, Birmingham, AL; Chet Imes, Ottawa Hills, OH; Phil Lutzi, St. Pete Beach, FL;
WINNER:
Judy Newell, Chicago, IL; James Oerding, Capay, CA; Raymond Prince, Maple Valley, WA.
---