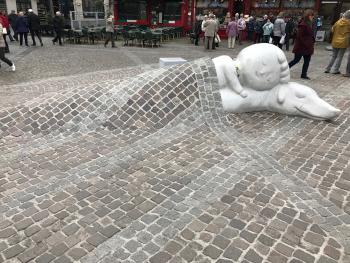 One hundred forty-five years ago, in 1872, English author Marie Louise de la Ramee (aka Ouida) wrote a children's book that would go on to become so popular in South Korea and Japan that residents of those countries considered the book a classic. However, "A Dog of Flanders" wasn't even heard of in Belgium, where the tragic story takes place, until 1987. Inspiration for the sculpture shown in our September 2017 mystery photo comes from the Christmas tale's main characters: Nello and his dog, Patrasche.
Nello and Patrasche become inseparable and suffer a series of tragedies, at one point seeking shelter at the Antwerp Cathedral. As sculpted by Belgian artist Batist Vermeulen (Tist), the white-marble characters, who are lying together under a blanket of cobblestones, are now part of the plaza in front of the Cathedral. They were unveiled in December 2016, thanks to a contribution from a Chinese businessman.
Thirty-four correct answers were submitted, and PATRICIA TEWKSBURY of Tucson, Arizona, won the drawing. We thank Linda Beuret of Santa Barbara, California, for submitting the picture.
Correct answers were submitted by:
Nanci Alexander, Lexington, KY; Lisa Anway, Pebble Beach, CA; Shirley & Victor Becker, Skokie, IL; Lynn Boreson, Madison, WI; Lucyna Boyle, Mesa, AZ; Doug Clark, San Diego, CA; Terrel M. Emmons, Springfield, VA; Diane Powell Ferguson, Scottsdale, AZ; Carol I. Gleason, Newberg, OR; Signe Haugen, San Carlos, CA; Jane & Clyde Holt, Hinesburg, VT; Gary Hurt, Carolina Shores, NC; Andrea Jones, San Francisco, CA; Karyn Kandell, Kyoto, Japan; Robert Kaplan, Silver Spring, MD; Stan Kimer, Raleigh, NC; George C. Kingston, East Longmeadow, MA; Sarah Kirtland, New York, NY; Margitta Lebofsky, Kansas City, MO; Theodore Liebersfeld, Boynton Beach, FL; Diane Link, Pacific Palisades, CA; Mary Anne Lynch, Chicago, IL; Elizabeth McDonald, Alexandria, VA; Barbara Mojazza, Plano, TX; Sherri Morgan, Denver, CO; Margaret Norman, Gurnee, IL; Donna Peterson, Patch Grove, WI; Raymond Prince, Maple Valley, WA; Dolores Rickenbach, Unadilla, NY; Marcia Ritter, St. Louis, MO; Mary Schmidt, Fairfax, VA; Frances Symons, San Diego, CA;
WINNER:
Patricia Tewksbury, Tucson, AZ; Karen Warburg, Seaside, CA.
---