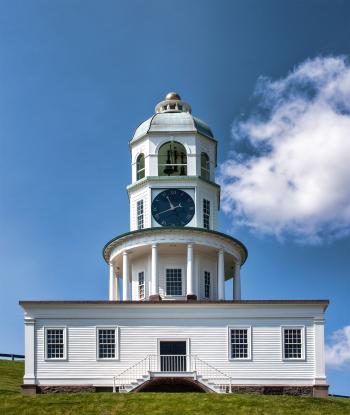 Known as the Town Clock (or Old Town Clock or Citadel Clock Tower), the clock tower seen in the December 2017 mystery photo stands on Citadel Hill in the city of Halifax, Nova Scotia, Canada, and its clock has been keeping accurate time for over 214 years.
The structure was built from 1801 to 1803 after being commissioned by Prince Edward, commander-in-chief of the North American British military forces at the time. (It is said the prince hoped to resolve the local garrison's problem with tardiness.) The 3-tiered, irregular-octagon tower was built atop a one-story, Palladian-style, white clapboard building.
In 1960, the outer facade was restored to its original Georgia appearance. The faces of the clock were restored in 2005. To minimize stress on the mechanism, the clock is wound twice a week.
Twenty-three correct answers were submitted, and CHARLES TWINE of Durham, North Carolina, won the drawing. We thank Jonathan van Bilsen of Port Perry, Ontario, Canada, for submitting the picture.
Correct answers were submitted by:
Norman Barrett, Knoxville, TN; Sally Bingley, Richmond, VA; Michael Brandt, El Dorado Hills, CA; Suzanne DeLong, Berwick, Nova Scotia, Canada; Donald Eager, San Jose, CA; Ed & Jasi Faker, Rochester, NY; Fidel E. Gaviola, Mesa, AZ; Signe Haugen, San Carlos, CA; Robert Hetzler, Bay City, MI; Jane & Clyde Holt, Hinesburg, VT; Bill Johannes, Columbus, OH; Karyn Kandell, Kyoto, Japan; Mary Lao, San Francisco, CA; Janet Leonard, Winnetka, IL; Susan Levine, Falls Church, VA; Theodore Liebersfeld, Boynton Beach, FL; Edith Moates, Norman, OK; Carol Peim, Hendersonville, NC; Donna Peterson, Patch Grove, WI; Raymond Prince, Maple Valley, WA; Mary Schmidt, Fairfax, VA; Ben Seidman, Longmont, CO;
WINNER:
Charles Twine, Durham, NC.
---